Recipe source:
http://bakespace.com/recipes/detail/Lemon-Garlic-Roast-Chicken-With-Potatoes/20108/
Printed this recipe out because I was looking for something to roast in my new dutch oven. Made a few modifications. Added salt to the butter/herb compound that went under the skin because I only had unsalted butter. Tied the chicken legs together because the chicken just looks so indiscrete, all spread-eagle, when you don't do that. Here's a before pic....
And then out of the oven....
Plated up pretty.....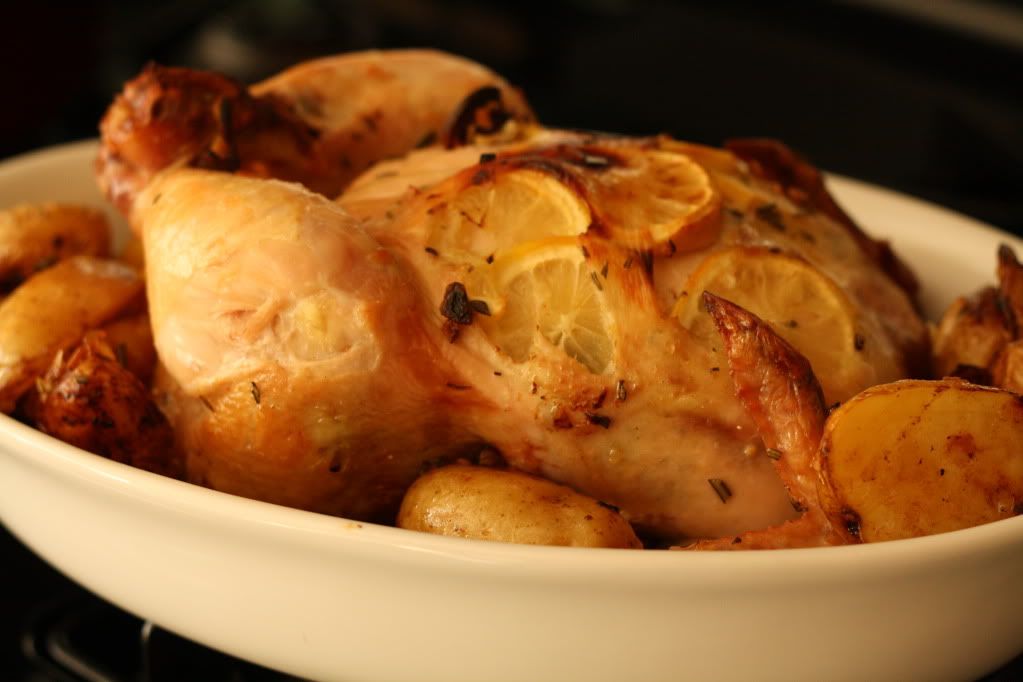 Verdict? Into The Box it goes, with some changes. The roasting technique was spot-on; never have I been able to produce such a juicy chicken (go dutch oven, go!), and the skin was nice and crisp.
But what this recipe lacked was SALT! A whole bunch of it! When I looked back over the recipe, I really should have rubbed that whole chicken with a generous helping of kosher salt after the lemon bath, followed by the compound butter. I also found the lemon rind a bit overpowering and would probably like this better with thyme instead of rosemary.
Did the husband eat almost the whole dang thing? Yes, so I take that as a good sign. So that's 1 recipe down, 38 more to go (unfortunately I found 3 more recipes that I forgot to include in my first count). Off to a pretty good start, I think!